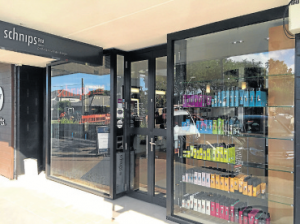 For almost 20 years the residents of Kohimarama and nearby suburbs have reaped the benefits of having a professional hairdressing salon in the heart of their neighbourhood. Over the years this Schnips PHd salon has become an established and iconic business in Kohimarama.
It has built a solid reputation through its friendly and professional staff and is renowned for its contemporary and progressive approach to hairdressing, as well as its experienced, skilled, creative and award winning team of stylists. And now, as it's been 10 years since the salon's last redesign, the time has arrived for a well-deserved major renovation!
After being closed for almost two weeks the newly updated, rejuvenated salon reopened last week and reflects the same sleek and contemporary design featured in the other Schnips PHd salons across Auckland.
Walking into the Kohimarama branch you are now greeted by a bright, spacious and modern design with crisp white walls, bold black detailing, and an overall luxurious look from all the brand new fittings.
The owners of Schnips PHd would like to acknowledge the hard-working and skilled people who created this new–look salon by giving them all a big "shout out" and a sincere thanks.
• New signage – Chris and Claire, at Vision Signs
• New flooring – Len Mauer, at Torleys Flooring
• New lighting – Ben Thompson, at Cable Systems
• Painting – Hadi and his team, at A 2 Z Painting & Plastering
• Joinery – Terry, at T.K Cabinetry
• Plumbing – Tony, at Bays Plumbing
To celebrate their reopening, Schnips PHd has some special home hair care promotions available and for all of their Kerasilk / Keratin clients, there is a competition running until June with a chance to win $1000 worth of Schnips PHd hairdressing services and/or hair products Schnips PHd is located at 33 Melanesia Road, Kohimarama.
Phone 521 8088 for appointments – or stop by to check out their new look today