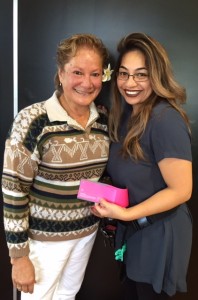 Every client who had a fantastic new Goldwell Kerasilk service in the last 8 weeks went in the draw to win $1000 worth of free hairdressing.
This week we phoned 4 very happy clients who were very excited at the thought of collecting their vouchers.
Here is Lynette from our Manukau salon pictured with her client, winner Christine Davies.
Congratulations also to Amanda Barker (Saskia's client) who won Sylvia Parks prize,Tina Price (Ann's client) from Botany and Claire Gibbon (Sheryl's client ) from Kohimarama.